https://www.newcanaannewsonline.com/news/article/Get-to-know-Gabe-Ryan-8330671.php
Get to know ... Gabe Ryan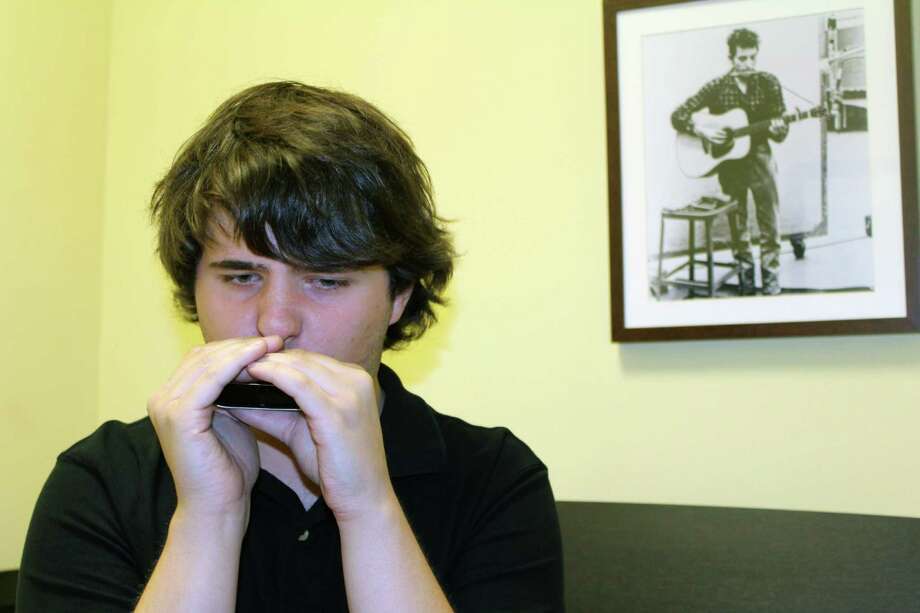 Photo: Justin Papp / Hearst Connecticut Media
NEW CANAAN — Seated in front of a keyboard in a back room of New Canaan Music, Gabriel Ryan fills the small space with a tune by seminal jazz pianist Thelonious Monk. But unlike Monk, the 20-year-old Ryan, whose shaggy black hair sweeps across his forehead as he plays, had his back turned to the keyboard.
Rather than recreate the song, "Blue Monk" by bouncing off the keyboard keys in Monk's signature style, Ryan blows out a bluesy rendition on his tiny harmonica.
Ryan, a New Canaan resident, is a rabid fan of far-ranging musical styles, from jazz to contemporary rock. He started playing the harmonica six years ago, after he heard the soulful sounds of harmonica visionary and Chicago blues musician Little Walter.
Ryan has played his harmonica almost every day since.
When he's not studying political science at Muskingum University in Ohio, Ryan works as the store's harmonica expert. Ryan met with the New Canaan News last week to talk about the mouth organ, his musical inspirations and to show off his blues chops.
Q: When did you start playing music?
A: I started when I was about 10 with piano. I was enthusiastic about it for a couple months and then I was incredibly lax about it and became bored even though I probably should not have. Then I saw Cadillac Records and one of the characters was a notable Chicago blues harmonica player named Little Walter. I thought he was awesome. I had a harmonica that had been laying around for God knows how long. I think I was about 5 when I got it and I never really used it. So I started learning all these blues licks when I was 14.
Q: Were you a self-taught musician?
A: Yeah. The knowledge I had already gained from piano helped me with that. I still had an idea of scales and modes. When I turned 16, one spring break, that's about all I did. And then I just decided I really wanted to do a good job at it and I practiced a lot. I've been practicing almost every day since.
Q: What is it about the harmonica that drew you?
A: I just thought it was a really cool sound. Before Little Walter, the only harmonica I had really heard was from people like Bob Dylan and Neil Young. What they do is good for what they do. They're folk singers who are supposed to add a bit of a folksy tune to it. But Little Walter was much more technical because that was his job. He was a harmonica player. The idea of being a harmonica player was kind of intriguing to me.
Q: Do you consider the harmonica an underrated instrument?
A: I think harmonica is definitely an underrated instrument, but at the same time, there are quite a few of those. I love guitar. I love bass. But I don't understand why people don't hire more flautists. Or why people don't hire more trumpet players.
Rock n' roll was defined by electric guitars and bass. Harmonica was more of a blues and folk thing. I think when rock n' roll took over, there was less demand for it because it was bass, drums, guitar, singer. Somewhere along the line, the amplification of the harmonica got a little lost.
Q: Is harmonica a difficult instrument to play?
A: It's hard to play individual notes, but it's very easy to play chords and melodies with those chords.
Q: Are you in any bands?
A: I perform with a group called Frogtown Road. It's me and basically anybody I want to take along with me. We're playing a gig July 2 in Glenbrook at a place called Tavern 49. I've played at what used to be Mrs. Fleming's in Springdale. I've played at Rowayton Pizza a few times. I've played the Fez in downtown Stamford.
I play according to how the crowd likes the music to be heard. If I play a place like Rowayton Pizza, I'm not trying to attract too much attention; people just want to hear some background music. If I'm at a place like the Fez, I want to be heard because people showed up to see musicians.
Q: Is it solely blues you're playing?
A: No, I would not say it's solely blues music. Every now and then, we play a bit of The Doors. I really like the psychedelic rock from the 1960s like Jimi Hendrix. A little bit of Grateful Dead here and there, too. Once in a while, we like to play something a little bit jazzy. So it'll be in a bluesy format, but it's a jazz song. Like Thelonius Monk, for example. He put out a track called Blue Monk which is a blues progression, but I can play it so that it doesn't sound like a Chicago blues song.
Q: Is it normal for harmonica players to play jazz?
A: No, it's unusual. I can only play some jazz songs on harmonica and it's difficult. Some jazz songs are incredibly chromatic. The harmonica's a diatonic instrument. In order to play it chromatically, you need to alter the harp a lot and you need to be incredibly good. And there are only a handful of people who I can think of who can do that.
Q: Aside from Little Walter, who are some of your influences?
A: I really like Jimi Hendrix. I like a guy called Jason Richey who recently played with Tom Morello and Zac Brown at the Rock n' Roll Hall of Fame. I like Miles Davis. I write a little bit of music and I like the way he writes music. "Kind of Blue" is one of my favorite albums because he found ways to make bluesy songs sound like jazz, which is hard to do. Often jazz musicians can't feel the blues. They can play the blues, but they can't feel it. That entire album, everyone felt and played the blues and still made a jazz album.
Q: Do you think you'll continue to play through college and after college?
A: I do because I have a lot of passion for it. I don't think I'll ever make a living playing harmonica, that's very hard. But I want to keep playing gigs around here and then maybe one day, even more than that. But it's something that I really love to do.
To inquire about lessons with Ryan, contact New Canaan Music at 203-920-1800.
justin.papp@scni.com; newcanaannewsonline.com